FAQ
What exactly is RaceTCS?
RaceTCS is a universal aftermarket standalone traction control system. It uses wheel speed sensors (usually used by ABS system) and intercepts fuel injector signals to control engine torque. It does not rely on any existing car electronics,except wheel speed sensors.It works in similar way to other known systems on the market, like Racelogic traction control system.
Is RaceTCS safe for engine?
RaceTCS replicates injector signal coming from ECU and when torque reduction is needed, it cuts whole injection pulse. There is no way that part of the fuel can get into the cylinder and cause lean burn. Since 2015 , when device was delivered to 1st test cars, there was not a single report of damaged piston or valve due to RaceTCS.
Does RaceTCS raise EGT during operation?
When RaceTCS cuts injection pulse to a cylinder, that cylinder cools itself with incoming air. Because of that , EGT is lower in cylinder , which was cut.
Which cars is it compatible with?
A list of cars, in which RaceTCS has been tested (alphabetic order):
BMW E30
BMW E36 (with M3E46 ABS system and stock ABS)
BMW E46
BMW M3 E46
Fiat Coupe 20vt
Lexus SC300
Mazda MX5 NA
Mazda RX8 (K20, 2JZ, SR20DET, Z32SE)
Nissan 350z with both with VDC and just ABS (US version)
Nissan 370z
Opel speedster/vx220 2.2 and turbo
Seat Ibiza 1.8t
Toyota Celica 4wd (viscous clutch)
Toyota Celica FWD
How long do i have to wait for delivery?
Shipping to EU countries should be 7 days with parcel service. Shipping cost is around 20 euro for whole EU.
What is included in the package?
Package contains RaceTCS device, USB cable, slip adjustment potentiometer and indication LED.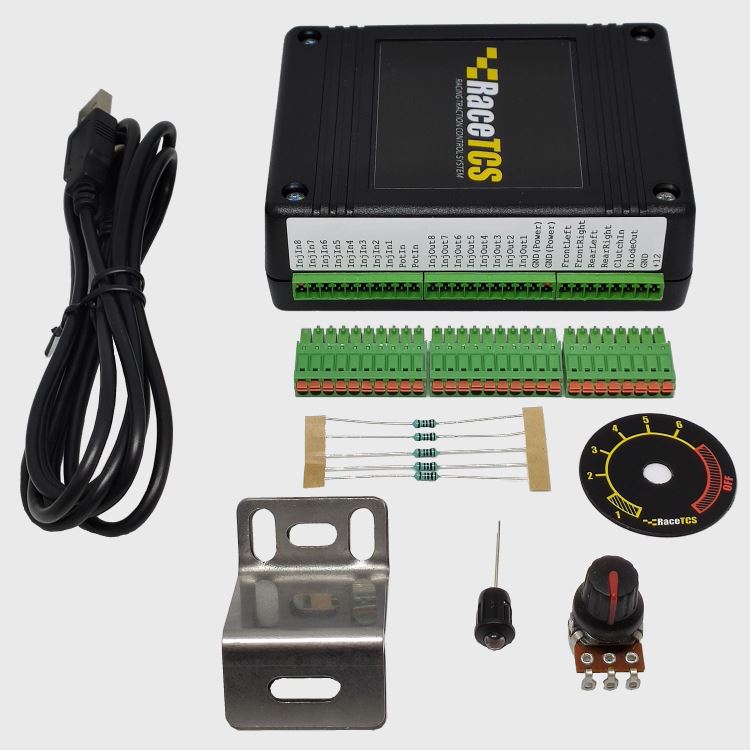 Can I install it myself?
Installation requires experience with multimeter, soldering iron and ability to read electrical schematics.
Can you recommend workshops that can install RaceTCS?
List of recommended workshops will be growing with time. We recommend :
MAX-Performance Al. 11 Listopada 156, Gorzów Wielkopolski, 66-400 Poland
Turbo Lamik Gwarków 53, Lędziny, Poland
Zen-TE Łódź, Pabianicka 10, Poland
How is the adjustment done?
Adjustment is done via 10 position potentiometer with a knob (included in the package). It can be hidden (e.g. in ash tray) and should be mounted within driver's reach. Drilling a hole to mount the potentiometer might be required.
My car is fairly new and stock TCS is adjustable. Why should I bother with RaceTCS?
Very few cars have stock TCS that is performance oriented. For sure you tried to drive on the edge with your RWD car and traction control slammed on the brakes. It cut the engine power and you could not accelerate for a moment. This slows you down. On the other hand, when it is slippery, you might be afraid to disable traction control completely. If you feel that your stock TCS is too strict, slows you down and takes the fun away, then RaceTCS is your best choice.
Does RaceTCS interfere with stock TCS or ABS?
RaceTCS in no way affects stock TCS or ABS. It uses the same sensors as ABS, but operates separately. You can have stock TCS and RaceTCS on or off separately.
Do I need to activate it every time i start the car?
RaceTCS is active as soon as you turn on the ignition.